The ingenuity of the great power of great power
20 years focus on development and application of aluminum alloy building profiles and industrial aluminum profiles
More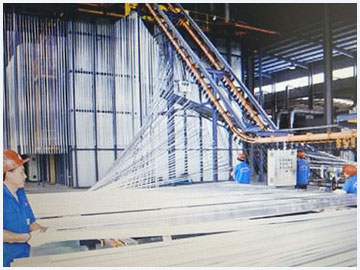 Shandong Cathay Pacific Aluminum Co., Ltd., high-end aluminum alloy new materials R & D and manufacturing base, a large high-tech innovation enterprises, its research and development base of a project covers an area of 150 thousand square meters, advanced investment of $1 billion 50 million. The company's core team is the first batch of aluminum industry pioneer, has accumulated more than 20 years of industry leading experience, specializing in the production of aluminum alloy doors and windows profiles and industrial profiles and other high-strength new alloy materials.
Companies adhere to innovation driven, to research the development idea of the pilot, to create a dynamic and innovative core technology team, has won 136 national patents, won several national, provincial and relevant institutions issued by the invention award, innovation award, patent application award award.
The company introduced advanced equipment, precision manufacturing, the introduction of key production equipment and operation system are manufactured from Germany, Switzerland, Taiwan and other high-end base money extrusion production line, oxidation of polymers and polymer electrophoresis production line, double membrane electrostatic spraying production line, production line, vacuum insulation material grain production line and other high-end imported advanced production equipment at home and abroad, Seiko manufacturing various types of profiles of more than and 400 series of more than 5 thousand varieties, designed annual production capacity of 100 thousand tons.
The company strictly by national standards organization of production, through a comprehensive ISO9001 quality management system certification, ISO14000 environmental management system certification, OHSAS18001 occupation health management system certification, adopting international standard product certification and accreditation CQC Chinese energy-saving product certification. The products are widely used in public buildings, urban and rural areas across the country to high-grade residential and high-speed rail, aviation, light industry, electronics, machinery manufacturing and other fields, was awarded the Chinese, China aluminum ten high-quality brand-name brands, Chinese projects focus on the promotion of products, the enterprise has won the advanced enterprises, China aluminum industry top manufacturers, Chinese aluminum industry twenty strong honor.
Relying on excellent products, the integrity of the marketing power of CCTV and CCTV spread, the company quickly established covering more than and 20 provinces and more than and 60 city in Europe, Africa, Southeast Asia and other countries and regions, sales service network.
Innovation to promote the development of brand achievement in the future. Around the theme of development innovation of energy saving and environmental protection, take the development opportunities of economic transformation and upgrading, with Guotai aluminium industry pioneering struggle posture, and make unremitting efforts to lead the international first-class professional aluminum manufacturing and service!
Cathay Pacific and home security, build a good future! This is Cathay Pacific aluminum consistent mission and wish!
2017——Patent certificate
2017——Patent certificate
2017——Patent certificate
2017——Patent certificate
2017——Patent certificate
2017——Patent certificate
2017——Patent certificate
2017——Patent certificate
2017——Chinese quality brand products
2017——ISO9001
2017——International standard product certificate
2017——International standard product certificate
2017——Environmental management system certification
2017——Certificate of international standard for enterprise products
2017——Certificate of international standard for enterprise products
2017——Hongkong International Patent Invention Fair Gold Medal
2017——International Invention
2017——2014 CCTV broadcast brand
2017——Invention entrepreneurship Award
2017——Member unit
NEWS
The first time, The latest news
VIDEO
CASE
工程案例